Government: Upgrading City Hall
Your City Hall is the basic 'seat of power' for your city. It is required for nearly all basic buildings and tools in SimCity, and the expansion options available are prerequisites for most of the advanced buildings.
The following sections can be found in this article:
There are 6 upgrades available for City Hall, you can add a new extension buildings as modules to your main City hall building once your city has achieved one of a number of population milestones. Adding these extension buildings unlocks various advanced buildings not just for your city, but for the whole region. This is fortunate because getting to the highest population levels is very difficult, so putting all the upgrades on a single city hall is a challenge indeed (there is an achievement for it if you do manage it!).
For more information:
| | |
| --- | --- |
| Building | Unlocks |
| Department of Utilities | Water pumping station, Sewage treatment plant, recycling center |
| Department of Education | High school, Community College, University |
| Department of Finance | Set the tax rate by zone and wealth level |
| Department of Safety | Hospital, Police precinct, Large fire station |
| Department of Tourism | Tourist landmarks, Pro Stadium, large parks |
| Department of Transportation | Passenger train station, Bus terminal, Airport, Ferry Dock |
Which is the highest priority is something of a personal choice. I personally tend to view the utilities and education as being the ones I must have as soon as possible to prevent water supply and educated worker problems BUT it depends entirely on what sort of city and indeed region, you are creating. Quite possibly if you are sharing a region with other players who've already established their cities, you may not need to place any extensions at all, but if you do then you'll probably soon work out which ones you need most urgently by a pressing need for one or more of the buildings they unlock!
Growing your population is a requirement for upgrading your city hall. Maxing out the upgrades is a requirement if you are looking to get the Big Government achievement. This means getting your population over the 600,000 level, something that most players struggle with.
Generate high density zones
The key to creating high population levels is to generate lots of high density, low wealth residential. Why low wealth? Put simply, poor Sims complain less - they will be happier with worse conditions, less access to shopping and parks, unemployment, homelessness, lack of education and pollution. By keeping wealth levels low it is easier to grow buildings to high density and to encourage Sims to move in and stay put, whilst at the same time requiring fewer city services which take up valuable space in the city.
Increase commercial and industrial zoning in neighboring cities
You can also save space for residential zoning by making the most of neighboring cities in the region, focusing on commercial and industrial areas elsewhere, essentially making your city a commuter suburb. Note that it is easier to grow a high population city in a region which has large connected cities in general as this will generate additional Sims who can migrate to live in your city. An empty region will still generate migrants, but at a much slower rate.
Buy basic services
Having helpful neighbors who can provide power, water, sewage and garbage processing will also save valuable space. Obviously in order to make your city financially viable you will likely need some specialization, I recommend perhaps an event center or a consumer electronics factory (if you can get a sufficient education level to support it).
Reduce polluting industries & buildings
Another benefit to keeping minimal industry is it also keeps pollution levels low. This takes pressures off health services and reduces the death rate.
Lower Taxes for low wealth Sims
Low taxes will always encourage migration for all 3 zone types, if you can find a way to get your low wealth tax rate down to 5%, it will help your city to grow considerably.
Reduce Traffic
Traffic is by far the biggest problem for cities with populations over 100,000. There is no magic solution for awful traffic, but having a lot of mass transit will help a great deal, particularly buses and streetcars which cater to poorer Sims and which can take tens of thousands of drivers off your city streets.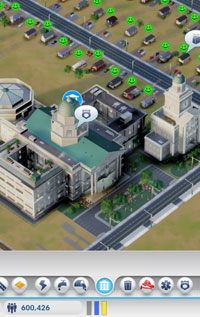 My city has 600,000+ population created using no services and a 1% tax rate
For more information:
If you have tried, but failed to make a city with a population over 600,000 by making a really good city, then perhaps instead try making a really bad one!
The uber-population residential city uses no water, power, or other city buildings, just residential zoning and can generate populations of well over 1 million with no traffic problems. It's not pretty, but with patience it's guarneteed to work! A walk-through for this method is covered in the Zoning: Residential article.
For more information:
Return to Top